Double Acting Angle Seat Valve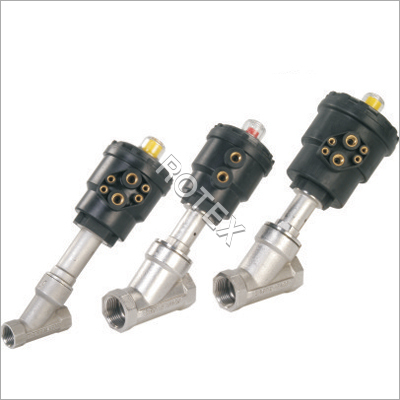 Double Acting Angle Seat Valve
Product Description
By becoming operational in the year 1967, we have developed ourselves as a full fledged quality based manufacturer and supplier of top grade Angle Seat Valve. Our offered valves can be easily converted from double acting to single acting mode. The provided valves are ideal for places where these is no requirements for exhaust air and sedimentation of particles in the operator crevices. Angle Seat Valve is available for the clients in different specifications as per the wide requirements.
Features:
Aluminium hard anodized piston

Operator end for longer life

Well supported piston shaft
Angle Seat Valve
SALIENT FEATURES:
Can be easily converted from NC to NO / Double Acting to Single Acting

Operator having threaded ports is ideally suited for area in which contamination due to exhaust air and sedimentation of particles in the operator crevices are not desired

Aluminium hard anodised piston

Corrosion resistive glass filled nylon operator

Brass inserts for operator port connections

More number of gland packings at Valve end and

Operator end for longer life

Operator with threaded / NAMUR ports

Lubricated pilot air not necessary

Wetted parts : CF3M (SS 316L cast), SS 316L

Life > 10 million cycles

Fast acting up to 2000 cycles / hour

Piston shaft well supported by rigid non metallic linear

bearings avoiding metal to metal contact

Specially designed body with lower bends for higher flow

Burnished piston shaft

Ideally suited for vacuum service

Modular design
SPECIFICATIONS:
Action : Normally Closed / Normally Open/ Bi-Directional
Operating pressure : 0 - 16bar / 0 - 25 bar
Size : 1/2", 3/4", 1", 1 1/4", 1 1/2", 2"
Body, sleeve material : CF3M (SS 316Lcast) (1.4435)
Seat seal : PTFE
Shaft/ Seat material : SS 316L (1.4404)
Port Connection : Threaded / Welded / Triclamp / ANSI/ Flange
Media : Steam, Air, Oil, Water, Liquid, Fuel Gas & Liquid, Vacuum
Fluid Temperature : -10 C to +180 C
Operator Material : Nylon glass filled
Seal/O ring : Viton/ EPDM
Pilot pressure : 0.8 -10 bar (refer pages 6 to 9)
Ambient temperature : -10 C to +60 C
Pilot Fluid : Air, Inert gas filtered to 50 micron.
Media :

Steam, Air, Oil, Water, Liquid.
Applications :
Air Drying Equipment, Autoclave, Bottling & Dispensing Equipment, Chemical & Petrochemical Industries, Coolant Control for Machine Tool, Fuel, Ink & Paint Dispensing, Industrial Compressor, Laundry Equipment,Nuclear Energy, Pollution Control Equipment, Process Control Application, Power Generation, Paper & Pulp Industries, PSA Plants, Pharmaceutical, Steam, Sterilizer, Textile Dyeing & Drying.