5 Way Solenoid Valve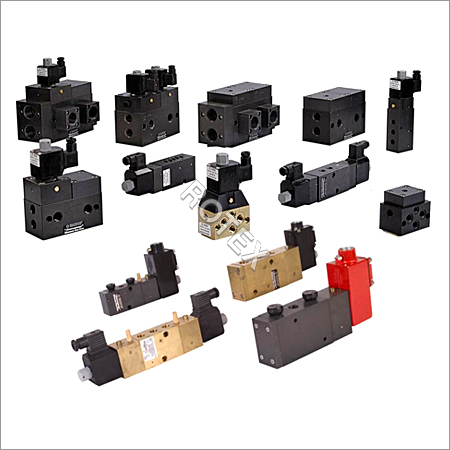 5 Way Solenoid Valve
Product Description
5 Way Solenoid Valve:
FEATURES:
Highly reliable rugged construction
Clear flow paths give highest Kv / Cv rating
Non chocking construction to suit harsh environment
Pressure assisted positive sealing helps to achieve Zero leak characteristics
Unique Floating Seal design result in long life and trouble free operation
Non sliding parts ensure consistent operation
The spring return mechanisms ensure that the valves are suitable for vibrations up to 9g
The valves can be mounted in any position
Short travel results in quick response time and as a result allow rapid cycling upto 1200 cycles per minute
Life in excess of 20 million cycles
Sub-base version available for most valves to facilitate faster maintenace and reduced down time
Wide range to suit each application demand. Current range includes valves for vacuum, cryogenic application to high temperature application upto 250 oC.
High efficiency solenoid construction requiring low power to operate
Low temperature rise due to efficient use of energy which allows higher media/environment temperature.
Low inrush, long life
Low back surge due to low power consumption
Solenoid is continuous duty rated
Solenoid can be rotated full 360 degrees in most constructions to suit cable orientation
The solenoid is tropicalized to suit the environment
Noiseless operation due to excellent design and good manufacturing techniques.
IP 67 by default make all the solnoid variations suitable for outdoor installation
Wide variations available to suit the application environment
wide terrmination area available for intergral Junction box type constructions in both general purpose and Explosion proof applications.
Rotex uses solenoid with a maximum 11 Watt. Rotex uses a surge suppressor device in all solenoid above 10 watt power consumption and in all flameproof valves as a standard.
Rotex offers full interchangeability of solenoid from AC voltage to DC voltage or vice versa by changing only solenoid and without changing any other components.
SPECIFICATION:
Body material: SS316, Hard Anodized Aluminium, Brass
Type: 5 Port, 2 Position
Operation: Pilot operated
Orifice: 6, 7, 10, 16, 20, 25, 32, 40, 50mm (for general 5/2 valve)
6, 12, 25 mm (for Inline 5/2)
Operationg Pressure Range: Max up to 150 bar
Temperature of Fluid: -40 oC to 80 oC
Operating Voltage:
AC: 24, 110, 220, 240 (50 Hz/ 60 Hz) DC: 6, 12, 24, 48, 72, 110, 220
Power Consumption: Size 1 coil: 6W, Size 2 coil: 11W
Enclosure:
1. General Purpose Flying lead / Plug-in
2. Weather-Proof: Flying lead & Plug in type, Terminal Box as per IS 13 947
3. Explosion-Proof with junction box as per IS 2148 group I, IIA, IIB and IIC
4. Explosion-Proof with Junction box as per ATEX, INMETRO, CE and UL (in process) available.
Air operated valves are also available
Valve with double solenoid for pneumatic latching available
Life > 10 million cycle
Response time: 500cycles/min

Vibration Resistance up to 9g

5/3 Option available, check 3 position solenoid valve for the same.

For details related to

5 Way Solenoid Valve

please refer to our catalogue,